Sasha - OOAK 172 Outfit
Dress, Pants, Hair Ribbons, Socks and Shoes - SOLD [£45.00]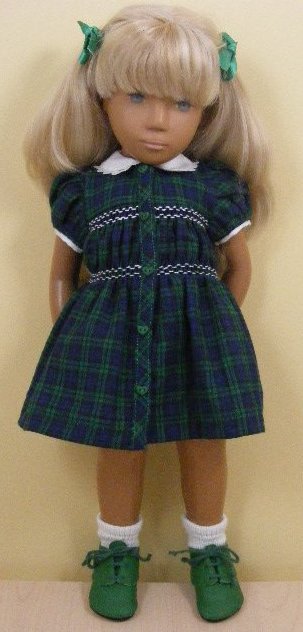 Consisting of Dress, Pants, Hair Ribbons, Socks and Shoes, the style, fabric quality and finish are of an exceptionally high standard. To fit all 16 inch Sasha Dolls [Please note: a Doll is not included with this outfit]
Dress: Black Watch Tartan 'homespun' 100% cotton woven check fabric in navy, green and black. Front fastening dress with white cotton Poplin laced-edged Peter-Pan collar. Short puff sleeves with white cotton Poplin edging. Two bands of white smocking, and green heart shaped buttons to trim. Fastens with snaps. Two ties at the back waist.
Pants: Black Watch Tartan to match dress. Elastic at waist and legs.
Hair Ribbons: Two green hair ribbons to style Sasha's hair as you wish
Socks: White cotton ankle socks.
Shoes: Green leather lace-up shoes.