Sasha - Seersucker Gingham Handsmock Outfit
in choice of 3 colours* Lilac, Lemon or Blue - Dress, Panties, Socks and Shoes £50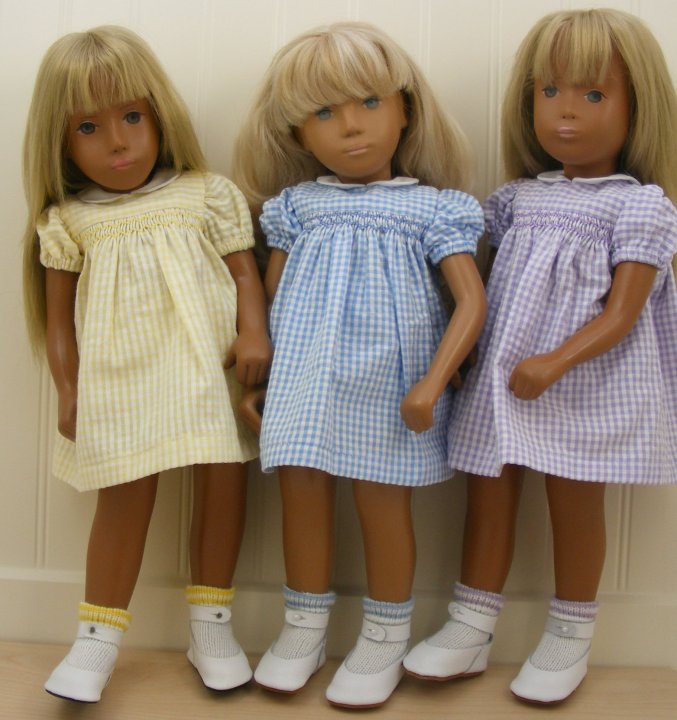 Consisting of Dress, Panties, Socks and Shoes, the style, fabric quality and finish are of an exceptionally high standard. To fit all 16 inch Sasha Dolls [Please note: a Doll is not included with this outfit]
Dress: fabric: Lilac, Lemon or Blue 100% cotton seersucker gingham.
Style: traditional smock style with 2 rows of feather stitch smocking across the yoke as shown below. Short puffed sleeves. White cotton poplin Peter Pan collar. Lined bodice. Fastens at the back with 3 snaps.
Panties: fabric: same as Dress.
Style: bloomer style with elastic at waist and legs.
Socks: white cotton ankle socks with bands to match the dress.
Shoes: white real leather Mary Janes style with bead button fastening.
* please state choice of colour when ordering; Lilac, Lemon or Blue.
Send mail to: ruth@ruthsdolls.uk
with queries about this web site.
Copyright © 2007 Ruthsdolls
http://www.ruthsdolls.uk
Last modified: