Sasha - Sasha Cord Dungarees Outfit
Dungarees, Blouse, Pants, Socks, Shoes - SOLD OUT Discontinued [was £45 ]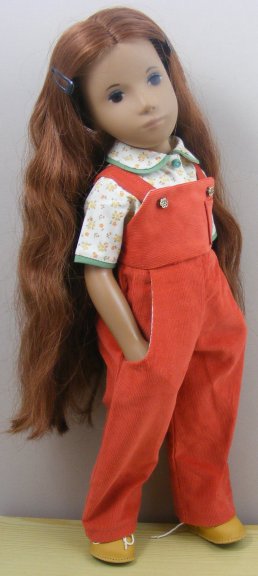 A versatile outfit that can be worn in two ways: traditional way with blouse worn underneath the dungarees, or with the blouseon the top of the dungarees, as shown.
Consisting of Dungarees, Blouse, Pants, Socks and Shoes, the style, fabric quality and finish are of an exceptionally high standard. To fit all 16 inch Sasha Dolls [Please note: a Doll is not included with this outfit]

Dungarees Fabric: Rust 100% cotton fine corduroy.
Dungarees style: Yoke style dungarees with one pocket on yoke, shoulder staps and back opening fasten with snaps. Metal buttons to trim. Two hip pockets that Sasha can easily slip his hands into!
Blouse Fabric: 100% cotton print fabric: Tiny rust, orange, ochre and green flowers on a cream background.
Blouse Style: Short-sleeved blouse. Peter Pan collar and sleeves edged in matching green piping. Fastens with four snaps. Matching green buttons to trim.
Pants: White cotton jersey stretch pants.
Socks: Cream cotton knit ankle socks
Shoes: Ochre machine-stitched leather lace-up shoes with leather soles.
Send mail to: ruth@ruthsdolls.uk
with queries about this web site.
Copyright © 2007 Ruthsdolls
http://www.ruthsdolls.uk
Last modified: