Sasha - Red and White Smock Outfit
Dress, Pantalettes, Socks and Shoes - £50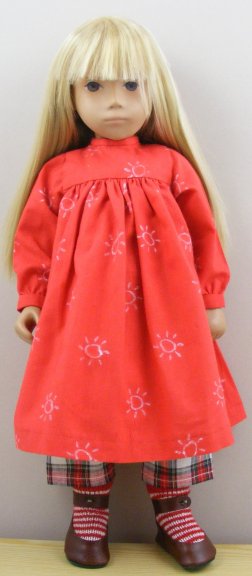 Consisting of Dress, Pantalettes, Socks and Shoes, the style, fabric quality and finish are of an exceptionally high standard. To fit all 16 inch Sasha Dolls [Please note: a Doll is not included with this outfit]
Inspired by wonderful Studio Doll outfits in the book 'Sasha Puppen'.
The red dress fabric is not commercially printed - each 'sun' has been individually handprinted, giving an attractive, vintage worn look to the outfit.
Dress: fabric: red cotton handprinted with white 'suns'.
style: traditional yoke style with longer fuller skirt, long sleeves with snap fastening cuffs. Bound neckline and lined yoke.
Pantalettes: fabric:cream, pink, beige and blue woven cotton check.
style: elastic at waists.
Socks: red and ivory striped ankle socks
Shoes: brown real leather Mary Janes.
Send mail to: ruth@ruthsdolls.uk
with queries about this web site.
Copyright © 2007 Ruthsdolls
http://www.ruthsdolls.uk
Last modified: