Sasha - Pleated Turquoise Summer Skirt and Blouse Outfit
Skirt, Blouse, Pants, Socks, Shoes- £50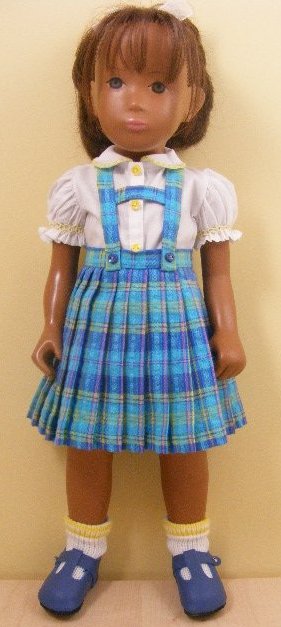 Consisting of Skirt, Blouse, Pants, Socks and Shoes, the style, fabric quality and finish are of an exceptionally high standard. To fit all 16 inch Sasha Dolls [Please note: a Doll is not included with this outfit]
Skirt: Turquoise, lemon bluebell and pink check seersucker cotton skirt with shoulder straps, buttons to trim. Fastens at the back with snaps.
Blouse: White cotton lawn blouse with lemon embroidery, sleeve smocking and buttons to match the skirt. Fastens with snaps.
Pants: White cotton jersey pants.
Socks: White cotton socks with lemon bands.
Shoes: Blubell T bar shoes.

Send mail to: ruth@ruthsdolls.uk
with queries about this web site.
Copyright © 2007 Ruthsdolls
http://www.ruthsdolls.uk
Last modified: