Sasha - Black and White Check Smock Outfit
Dress, Panties, Socks and Shoes - £45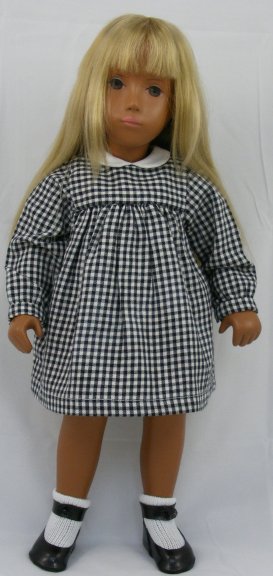 The Outfit is in the style of the Early German Gotz Outfit and consists of Dress, Panties, Socks and Shoes.
Dress fabric: Small black and white woven check. Soft feel cotton.
Dress style: Traditional smock with long cuffed sleeves and white cotton poplin 'Peter Pan' collar. Fastens at the back with three snaps.
Panties: fabric: same as dress. Bloomer style with elastic at the legs.
Socks: Whte cotton ankle socks. 
Shoes: Shiny Black Real Leather Mary Jane style shoes with bead button fastening and leather soles. 
Send mail to: ruth@ruthsdolls.uk
with queries about this web site.
Copyright © 2007 Ruthsdolls
http://www.ruthsdolls.uk
Last modified: