Sasha - Bavarian Girl National Costume Outfit
Dress, Apron, Pants, Hair Ribbons, Socks and Shoes - £50.00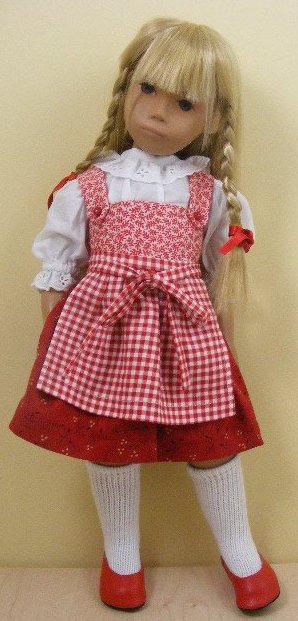 Consisting of Dress, Apron, Pants, Hair Ribbons, Socks and Shoes, the style, fabric quality and finish are of an exceptionally high standard. To fit all 16 inch Sasha Dolls [Please note: a Doll is not included with this outfit]
Dress: All-in-one garment that gives the appearance of a blouse worn beneath a pinafore dress. White lawn blouse section with Broderie Anglaise trim at neck and cuffs. Dress section uses two red and white cotton print fabrics. Fastens at the back with snaps.
Apron: Red and white gingham cotton print fabric. Ties with straps that tie in a bow at the front.
Hair Ribbons: Two red hair-ribbons, to style Sasha's hair as you wish Pants: White cotton jersey pants.
Socks: White cotton knee socks.
Shoes: Red leather stitched slip-on shoes with leather soles.

Send mail to: ruth@ruthsdolls.uk
with queries about this web site.
Copyright © 2007 Ruthsdolls
http://www.ruthsdolls.uk
Last modified: